Other Leica SL Articles
The Leica SL (type 601) Review: Part 2 - User Experience
Meeting with the Leica SL (type 601) Designers and other bits and pieces
Leica Das Wesentliche - SL Launch at Leitz Park
The LEICA SL (TYP 601): Part 1 - Introduction and Initial Thoughts
By now you've probably heard of this new full-frame autofocus camera and system from Leica Camera – the Leica SL. There have been rumours milling around social networks and forums for weeks and speculation has been at an all-time high. Most of the rumours initially pointed to a new M camera, possibly with autofocus. This rumour then changed to an interchangeable lens mirrorless camera based on the Leica Q, which isn't quite accurate. The Q really surprised many of us when it was launched because it was Leica's first real success at nailing autofocus, by meeting and exceeding the performance of competing products. It's clear that Leica's technological partnering with Panasonic and others has been a very good match as it's allowed Leica to catch up to the competition, and in the case of the freshly announced SL, possibly leapfrog it!
Personally, I've wanted Leica to make the SL for years. While the Leica M is my camera of passion and creativity, it's hasn't always been the most capable tool for a majority of assignments I do. Being a proficient photographer depends very heavily on using the right tools for the job, and for a lot of my work I require a camera capable of meeting the demanding requirements of fast paced changing situations, and this is where the realm of professional autofocus cameras with zoom lenses have major advantages over cameras like the Leica M.
The M is all about simplicity and keeping things minimal, and is most suited to documentary and basic portrait work, which is where it's DNA comes from. Speaking of DNA, the new SL is positioned as a professional mirrorless camera system with many similarities from the S-System, and the name refers to the German word 'Spiegellos", meaning " Mirrorless" . The SL name has also been derived from Leica's first SLR camera, originally named the 'Leica SL'.....or another way to look at is that it can't be named an SLR, as it lacks the reflex mirror, so 'SL' will suffice.
From Wikipedia
The Leicaflex was the first series of 35mm single-lens reflex cameras manufactured by Leitz. The Leicaflexes were fully mechanical cameras marketed between 1964 and 1976, in response to the rapid increase in popularity and usability of SLRs during this period. Their appeal was limited by their failure to keep pace with the state of the art in SLR design, their somewhat limited selection of accessories, and their extremely high price in comparison with their Japanese competitors. They were ultimately replaced by the R series Leicas developed by Leitz with the assistance of Minolta under a cooperation agreement between the two companies.
As a Leica SL Product Ambassador, I have been fortunate to spend a little time so far with this camera, and will be sharing my thoughts with you over several articles.
Key Features
Professional Mirrorless Camera.
Super fast autofocus speeds competing against the best Pro-SLR cameras.
Largest electronic viewfinder with 0.8x magnification, 100% view and 4.4 million pixels for incredible clarity. Also built in +2/–4 diopter compensation
100%, 1.04 MP, 2.95" touchscreen display
Fastest burst rate of 11 frames per second with high resolution 24MP CMOS Sensor
Fastest SD card standard UHS II, unlimited sequential shooting at
24MP and 11fps in JPEG format
Highest video quality: 4k Super: 35/24fps, 4k UHD: 30fps, or FHD: 120fps, Move/MP4 format
Professional L-Log gamma selectable
10-bit HDMI video output
Low ISO 50 to Max ISO 50,000
Pro shutter range from 1/8000sec to 30sec.
Strong aluminium body that is dust, moisture and splash resistant – lenses included
Three main lenses announced at launch
Leica Vario-Elmarit-SL 24–90 mm f/2.8–4 ASPH
Leica APO-Vario-Elmarit-SL 90–280 mm f/2.8–4
Leica Summilux-SL 50 mm f/1.4 ASPH
SL-Lenses with AquaDura coating
Leica T lenses can be used as the mount is the same. Any other lenses including S, M and R can be used with an adapter.
Made in Germany
Scope of Delivery
Professional carrying strap – thick, soft and flexible
Camera bayonet (body) cap
Lithium Ion battery (BP-SCL4)
Battery charger (BC-SCL4)

USB 3.0 micro-B cable
Lens/display cleaning cloth
Cover for contact array in baseplate
Image Processing Software (Lightroom) – free download after registering camera. Also Leica SL app for remote control and transfer of recordings to tablet or smartphone, from Apple App Store or Google Play Store.
Leica Image Shuttle – free download of software for remote control with computer.
A STEP INTO THE FUTURE OF MODERN PHOTOGRAPHY
If you've taken a good look at the specifications you've seen that the SL is one ambitious camera - actually a further development of the R-System, using today's technology to provide serious photographers with a modern twist on Leica's heritage. While other manufacturers are focusing on either professional SLR's or amateur mirrorless cameras, Leica has identified a tremendous opportunity by producing the world's first 'professional mirrorless camera' – combining all the best features of a professional high speed SLR with the modern advantages of mirrorless technology and design. This is a bold move by Leica and most certainly aimed at serious amateurs and professionals that need the most capable and flexible tool for shooting in any situation.

Why the Mirrorless Segment?
Over the last few years its been very clear that the digital market has been shifting from SLR's to mirrorless cameras, and the advantages translate into the following benefits to photographers:
Light entering lens falls directly on the sensor, without the need for mirrors, which delivers an uninterrupted live image to the electronic viewfinder. The lack of mirror translates into a camera that while shooting video suffers no viewfinder blackout, and no vibration from mirror-slap like SLR cameras when shooting stills, ensuring sharper images in low light situations.
The electronic viewfinder image can be magnified if needed to check aspects such as sharpness and rendition of details for accurate focusing at wide apertures, always ensuring the sharpest possible results.
The electronic viewfinder image remains bright and clear, no matter what aperture is set on the lens, and provides accurate live exposure viewing before the shutter is released.
As the capture format of the sensor can be changed electronically, even lenses that don't cover the entire image circle generate a full-size viewfinder image.
Due to there being no mirror and prism assembly, the camera can be slimmer. Viewed from side, the Leica SL is only 35 mm thick.
Where does the SL fit and how does it differ from the M and S Systems?
The SL is now Leica's 'do-anything' camera system, offering the highest performance in speed and versatility. It is also their first camera that not only competes directly with other mirrorless camera systems, but aims directly at the best professional SLR systems on the market. It is made in Germany and utilises components sourced from their technology partners, including Panasonic, for the highest quality in electronics to ensure the ultimate performance is achieved.
The M-System is still the iconic camera that empathically embodies the Leica philosophy in its purest form: Concentration on the essentials: "Das Wesentliche", and is the most compact, full-frame camera system in the market. This is due to the ultra high-resolution lenses that are a lot smaller than their SLR counterparts. The S-System is aimed at those seeking the ultimate in detail due to it's high-resolution sensor and large pixel size.
FORM & FUNCTION
Design
I have to admit I was quite shocked when I first saw the Leica SL for the first time. While it does resemble a little Leica S DNA, the sharp edges remind me of the Leica T - almost like the lovechild of a Leica S and T, and that's fitting as it is carved from a solid block of aluminium just like the T - it also happens to share the same lens mount. Looking at the rear of the camera, S users will see a familiar layout and feel quite at home with the SL.
The one noticeable design element is that stands out is the omission of labelling buttons. Most professional grade cameras have labels or icons printed near the button to make it easily identifiable, yet Leica has opted to leave them out to ensure a super clean and minimalistic design. I guess they have faith that their users will know what they're doing without the need for such obvious labelling.
The body doesn't have a vertical grip built in, but you will be able to add it later once it is release. See below for more details on the Multifunction Handgrip SL accessory.
Handling
In the hands, the SL really feels like a blend of the Leica T and Leica S in the one camera and that makes for a very sturdy feeling. It exudes the quality you expect from a top of the range professional (Leica) camera and then some. The grip is minimal with a straight edge that doesn't lock in the middle finger like it's competitors, so holding with one hand is less secure, but at this weight you really should be supporting the camera with both hands.
There is a nice gap in between the five-way joystick and the rear dial to rest your thumb but again, the area is flat so extra care will need to be taken to ensure a secure grip is maintained. Being carved from a single block of aluminium, you do feel the cold metal coming through which is very reassuring (similar to the Leica M), though this may be an issue in the cold so I'd advise wearing gloves in those situations. The top shutter dial and rear click dial are in perfect position to change settings, like aperture and shutter with ease and speed, which makes for very efficient use in the field.
Combined with the 24-90mm lens, the camera balances quite well, but would benefit greatly by having the Multifunctional Handgrip attached.
The Leica 24MP CMOS Sensor
The SL has a 24MP (6000x4000) sensor, with an IR cut filter, but no low-cut filter. Basically, it is a modified version of the sensor used in the Q to ensure the ultimate in imaging performance when using Leica M lenses and for ultrasonic sensor cleaning. It is not known who manufactures this sensor, but rest assured, like the Q, it is a very solid performer and compares favorably well to all pro-level competitors.
The development of the Leica SL came from the collaboration of Leica's design team with professional photographers. Together they recognized that speed and image quality were the two most important requirements and priorities for the target market of the SL, and the 24MP sensor would best cater to those needs. To achieve the 11fps, it was important to select a sensor that the processor could deal with at such a fast burst, and that's were the 24MP size best fit that combination. Together the 11fps and 24MP combination are unmatched by any camera on the market.
Also, there are resolution limits when we consider the combination of lens to sensor. The lenses attached to any system camera need to match the resolution capable of the sensor being used. While some manufacturers are creating huge sensors, many of their lenses cannot meet the requirements of the sensor, and the result is huge files with less than stellar pixel density and sharpness. he 24MP size was chosen as it translates into a huge resolution advantage combined with any of Leica's lenses, especially their new SL lenses.
The sensor has an integrated ultrasonic sensor cleaning function, and if additional sensor cleaning is required, it is recommended by Leica that users send their cameras to Leica Customer Care to be professionally cleaned. For general cleaning to prevent major dust spots, I recommend using a good quality blower to blow dust off the sensor on a fairly regular basis.
Leica MAESTRO II Processor
At the heart of the Leica SL lies it's MAESTRO II Processor. It is the same processor integrated in the new S (Typ 007) camera was designed to ensure the highest in speed and imaging performance. It performs high-speed 16-bit image generation at up to 11 frames per second, shooting DNG and JPEG at the same time.
ISO Sensitivity
As the race for higher megapixels slows down, the demand for better high ISO performance increases and all the industry heavy-hitters are competing vigorously to create high ISO performance that allows photographers to keep shooting with exceptional image quality when light is at it's worst.
Leica's first major step was with the Leica M, moving to 3200, and then the Leica Q to 50,000. Having a modified Q sensor, expect the SL to perform similarly. Based on my experience with the Q, I can tell you that the SL performs a little better, probably due to advanced image processing of noise, but you'll have to wait for my upcoming field test to see the results.
The 4.4 million pixel EVF
To me, the standout feature (besides the AF) is the EVF (Electronic Viewfinder). Previously, the Leica Q had the title for highest resolution electronic viewfinder on the market, achieving 3.68 million pixels. The SL improves by going to 4.4 million pixels at 60fps refresh rate at 0.8x magnification, making it the highest magnification professional product in the 35mm domain. It's very comfortable to hold to your eye and the 0.8x magnification makes viewing the frame very easy and a joy to use.
While optical viewfinders have been the finder of choice for professional SLR cameras, they don't really allow the user to take advantage of the old saying 'with an SLR, what you see is what you get'. Sure, you see how your image is going to be in focus, but the missing key element is exposure. What you're seeing is an image through the lens, where the brightness of what you're seeing depends solely on the maximum aperture of the lens being used. This is where the M-System had the advantage because the finder was always bright because you were never looking through the lens itself.
Enter 2015, and we now have the technology that shows you, the photographer, exactly how the image is going to look (focus and exposure) before you press the shutter button. This is a tremendous advantage to those (like me) who prefer to shoot in manual exposure mode, to have not only more control over the final exposure, but to achieve consistent results - but for this to work effectively, the viewfinder needs to be accurate in the way it displays sharpness, colour and brightness of exposure. Trust is never overrated and in this case, you need to be able to trust an electronic viewfinder for accurate results, and I've found the SL's EVF to be very accurate in all areas when comparing to both my Macbook Pro LCD and my Eizo Professional Monitor.
In operation, the viewfinder can be operated in the following ways:
Viewfinder only – finder is only in use, consuming less battery life. In this mode, the viewfinder is always switched on.
LCD only
Viewfinder and LCD Auto Switch – the camera switches automatically
Auto Focus
Up until recently, autofocus hasn't been an area Leica has been known for exceeding in. With the attention usually focused on the famous M-System, which is completely manual focus, it's hard to imagine Leica becoming a leader in such technology. While AF has been employed in the X, S, T and compact camera lines, it has always been at industry standard. Companies like Nikon and Canon have always lead the way with high-speed/accurate auto focus innovation, especially in the professional sector, and let me tell you, Leica has made an extraordinary move to compete directly with their top cameras.
The SL's focuses with the speed and precision of any top brand or product, and comes out swinging like a veteran. Locking focus is fast and accurate, even in the lowest of light, easily matching (and possibly surpassing) any professional product I've used to date. It's almost unbelievable that Leica's first attempt at such a high feat could be so incredibly on point and successful. Credit needs to be given in spades here because this is the one area that really can propel and differentiate a product in the professional market.
Focus can be achieved by pressing the shutter button, pressing the five-way joystick, or by touching the screen. I'll go more into focus modes later in the next part of this article, but for now here are the focus options available:
Focus Modes
AFs – Single shot focus
AFc – Contnuous focusing
MF – Manual focusing only (AF disabled)
AF Modes
Static – ideal for no moving subjects.
Dynamic – subject is tracked automatically and shows where the focus point is during tracking in the viewfinder. When operated, AFc does not need to be activated.
Auto (face) – the focus points are selected automatically, usually on the closest subjects. (with contrast) to camera. Face detection is also automatic when faces are detected.
AF Field Size
1 point – perfect for a majority of uses, using a small but highly accurate focus point that can be moved anywhere in the viewfinder for the most accurate off-center focusing, with the same precision no matter where the point is positioned.
Field - a much larger focus point that can cover (approx.) 80% of the viewfinder frame.
Zone – a group of 9 focusing points that move together over (approx.) 80% of the viewfinder frame.
Manual Focus
Manually focus is really simple on the Leica SL thanks to a few key features. Firstly, focus peaking is available in 4 colours – red, green, blue and white. Secondly, due to the EVF having such high resolution, it is very easy to tell where the focus point is, even in poor lighting. Lastly, the SL has a very cool feature, allowing you to see your depth of field 'focus depth' on the top LCD – indicating exactly where the focus is, and how far forward and backward the aperture is taking you in regards to depth of field.
Controls
Operating the SL for the first time gave me a little Leica S Déjà-vu. The operation is almost identical, but if you're new to it, it does require some patience to learn how it all works. For those photographers used to dials and knobs, the clean and minimalistic design of the SL will take some getting used to. The top panel houses a shutter button for focus/shutter release, a video record (start/stop) button, a live view - photo/video switch button and shutter speed dial/exposure mode dial.
The back of the camera is also minimal with a rear click wheel, a viewfinder/LCD switch, on/off switch, five-way joystick controller and 4 function selection buttons. Also, unlike most cameras, the buttons are not labelled, though when you hit the menu button there are icons indicating what the 4 function selection buttons do.
While the LCD is touchscreen operated, navigation of the menu is controlled either with the rear click dial or the five-way joystick. It's really quite simple. Either you navigate using the joystick up/down/left/right and pushing it to select, or use the rear click dial to move up/down and click in to select options. When an option is selected you can use the top right function selection button to move backwards to your previous menu option. A 'favourites' option is also available for those most used functions/features.
Additionally, the 4 function selection buttons can customised for long presses to load your most used functions/features. The function button on the front of the camera can also be customised for a commonly used function/feature. It did take me a little practise to get the hang of operating the camera, but after 30 minutes it felt quite comfortable and intuitive.
The rear LCD has your typical touchscreen gestures like pinch to zoom, double tap and swiping as you're probably accustomed to on your smart devices. While swiping is quite smooth, the pinch to zoom and moving around the image when zoomed could be better, and will hopefully be improved in a firmware update soon.
Pressing the shutter is a silent pleasure, or at least close to it. The shutter is clean and sharp in feel, with absolutely no vibration and minimal sound.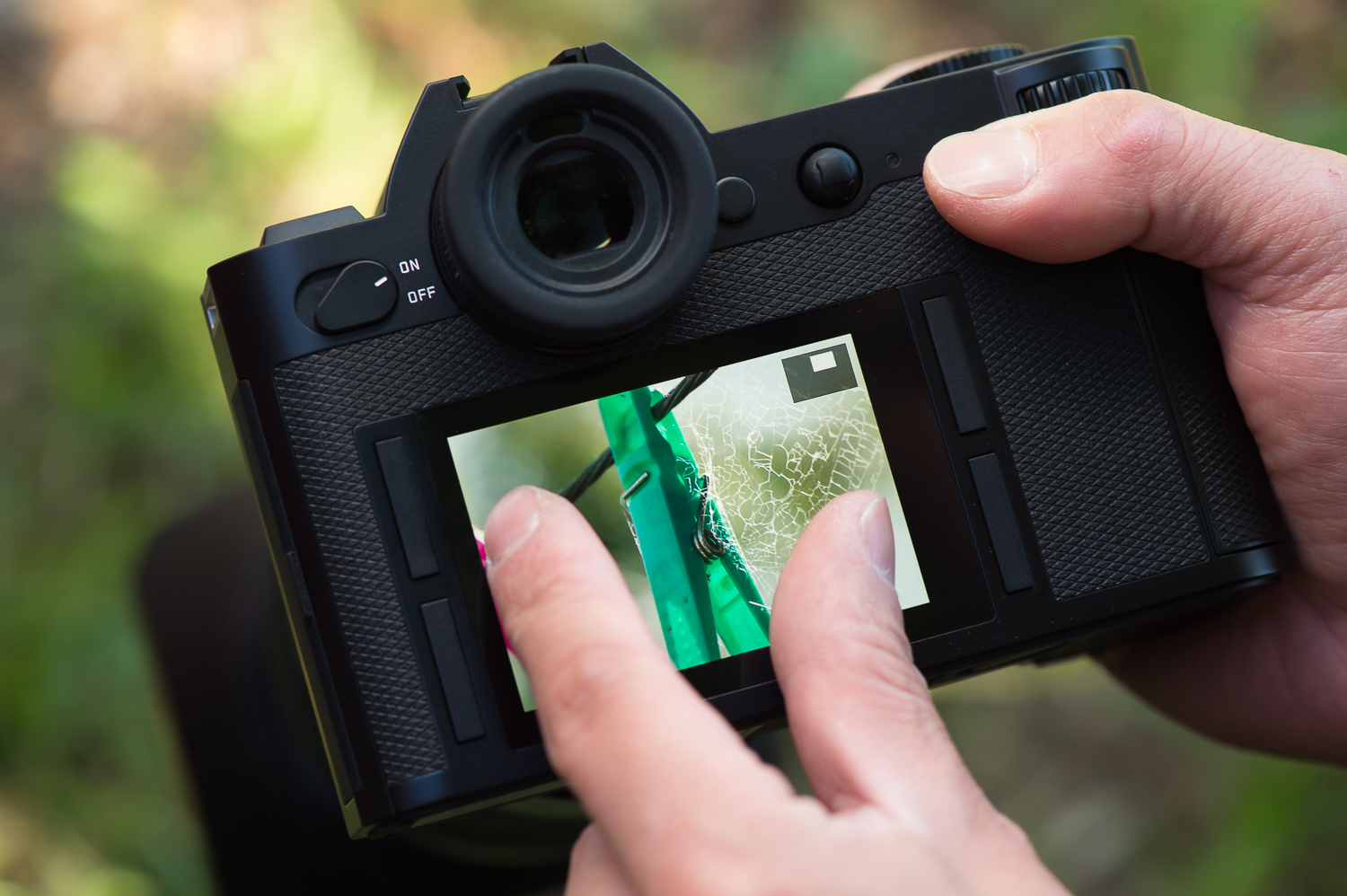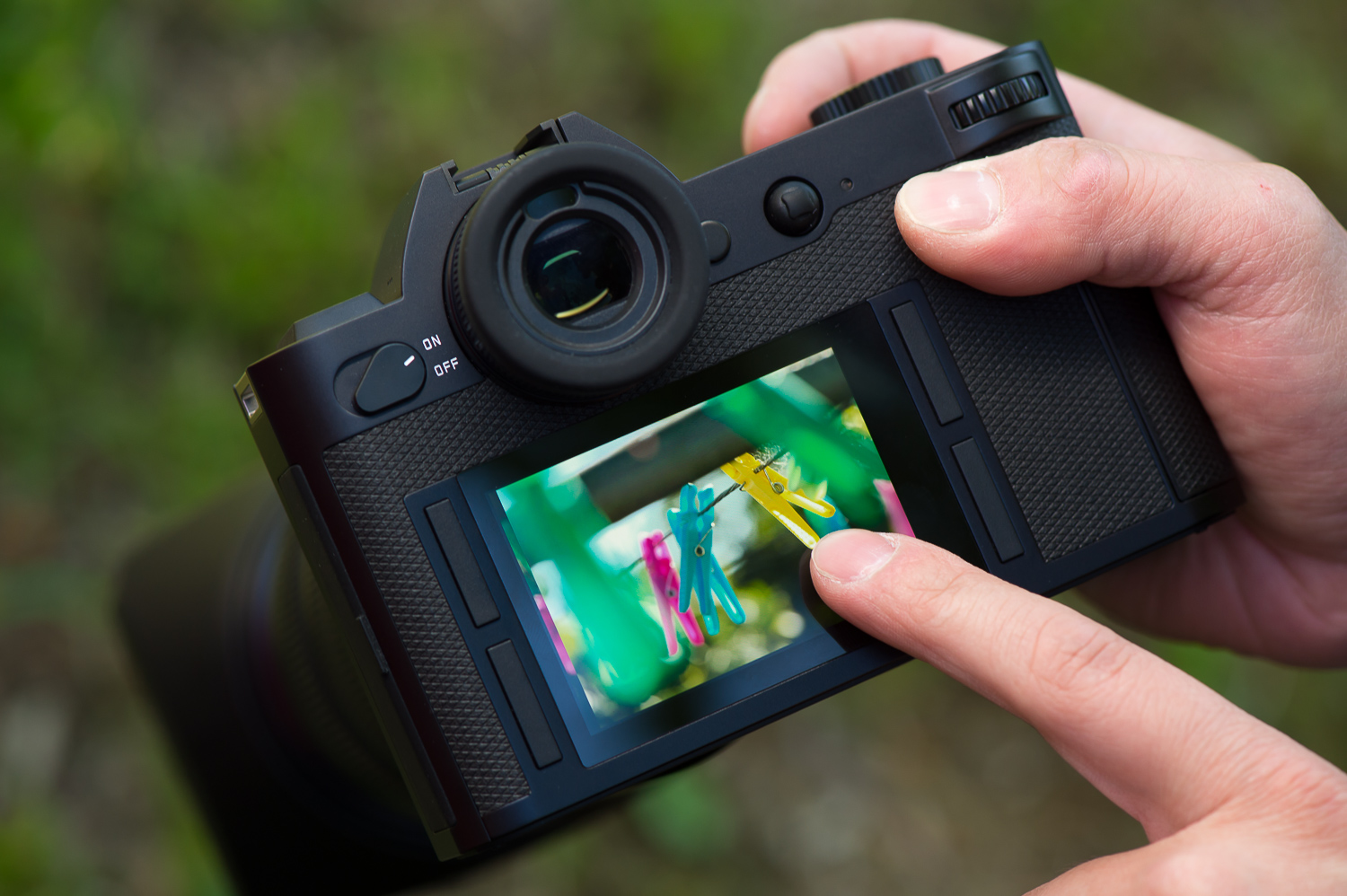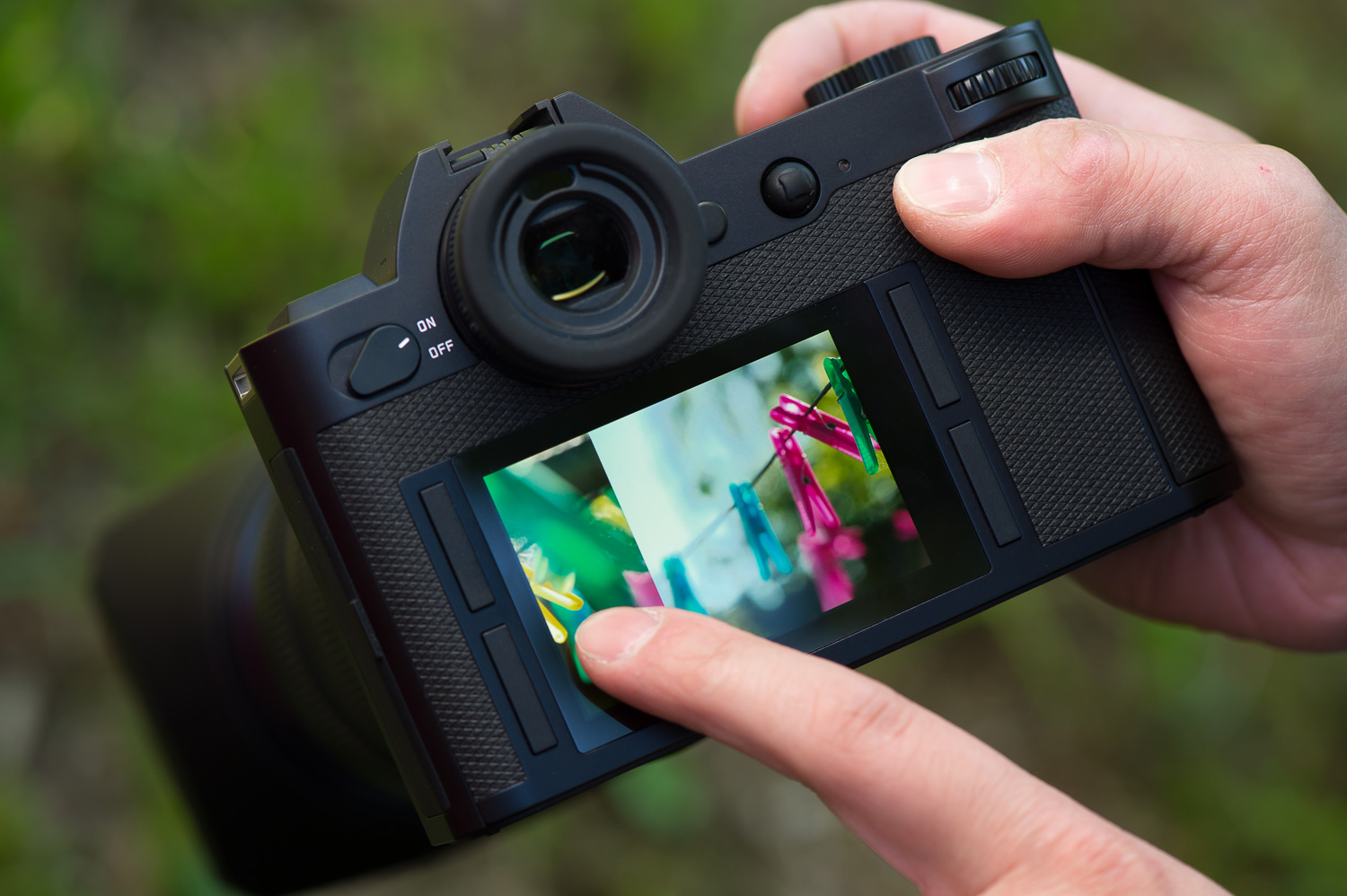 Exposure and Drive Modes
The Leica comes with 4 exposure modes – manual, aperture priority, shutter priority and program mode. To switch between them, you need to press and hold the rear click dial and turn it left.right.
There are numerous drives modes available, allowing up to 11 frames per second to be achieved at 24MP, saving in DNG and JPEG together. More on the buffer results in the nest part of this article.
Battery Performance
Based on CIPA test regulations, Leica rates the battery life to be around 400 images per charge. I would assume that to be based on small usage of the LCD under standard shooting conditions, and it could vary to be lower with increased LCD reviewing, or higher with less.
Storage
The SL takes 2x high speed SD cards. You have the option to store images on one card first, then to the other once the first slot is filled, or you can choose to choose to activate the storage backup mode, where each picture is saved to both cards, ensuring you always have a backup of every image. I didn't get to test saving times, which I will do in the next part of this article.
Cable Connections
The SL comes with all the necessary cable connections
Flash sync socket
Multi-connector socket for audio adapter for audio out- and input with 3.5mm jacks
HDMI 1,4 Type A
Micro USB 3.0 port Type B
VIDEO
From the specifications you'll see that Leica has taken the video feature very seriously. I won't go into detail on this as video is not my forte, but below are the basic specifications:
4K Super 35 (4096 × 2160p) at 24 fps
4K-UHD (3840 × 2160p) at 25/30 fps
Full HD (1920 × 1080p) up to 120fps
Video RAW/log format recording
10-bit output
Time code (for video editing)
Integrated stereo microphone
Audio interface for headphones and microphone
UHD resolution (3840p × 2160p) at 25 or 30 fps
In all 4K mode, the APS-C formatarea of the sensor is used and the viewing angle is reduced by a factor of 1.5
The needs of professionals and amateurs alike have changed dramatically since the introduction of digital and even more so with social media ruling the information highway. The demands placed on photojournalists have become instant, and competition in this domain even comes from smartphones with built-in cameras. Luckily Leica have included GPS and Wireless connectivity to computers via Image Shuttle 3.0 and to Smartphones via the Leica SL App, available for iOS on the App Store and Android on the Google Play Store.
Connectivity to a smart device will allow the SL to be controlled remotely, as well as being able to download the images for fast editing and sharing.
THE LENS SYSTEM
There are 148 possible Leica lens combinations that can be used with the SL. Due to the short flange distance of the lens mount, nearly all ever produced Leica lenses can be used on the Leica SL.
The SL lenses have been designed specifically for the SL body, and come straight out of the Leica S design manual. They look and feel just like S lenses, which is a very very good thing. The shiny finish, robust feel and smooth zoom/focus are of the highest manufacture and are a joy to use. While they share the same lens mount as the Leica T, the lenses have been specially designed with the highest quality optics in mind, offering pure colour reproduction and clarity from the center to the edges, at all distances, focal lengths and f-stop settings. They were also designed for demanding professionals who may use their exquipment in extreme weather conditions, so they are also dust and spray water sealed. Additionally the lens elements are coated with AquaDura coating to ensure extra protection from the elements.
Optical Image stabilization is included in all SL lenses, and activated on the camera via the system menu. Leica rate their system to work at an effective 3 stops, which is pretty much the industry standard but I'd advise against using it for general use as the system, which handy in certain situations, can reduce image quality, ever so slightly. For my further testing, I will ensure it is in the 'off' position, except for when I really need it.
While most mirrorless lenses are smaller than SLR lenses, the size of the SL lenses do indeed exceed the size of most comparative SLR lenses and there are good reasons for this design choice.
The short flange distance of the lens mount adds app. 25 mm length to the lens
Optimised focusing with mirrorless systems for photo as well as for video purposes requires a more innovative focusing mechanism: Only one or two very lightweight lens elements will be moved for ultrafast and smooth focusing.
The lenses are optimized to work perfectly at any focal length, any f-stop and any focusing distance with perfect image quality, maintaining enough resolving power for future sensor generations. This leads to very complex optical designs, which add some size to the lenses.
Leica VARIO-ELMARIT-SL 24–90 mm f/2.8–4 ASPH
This is the lens that has been launched with the SL camera body, and will be a very handy lens to a majority of photographers for a wide range of uses. The 24-70mm focal range is probably the most useful range to photojournalists working at close range to their subjects so it's most likely going to be the 'go-to' lens for most SL users.
In the hand it feels just like an S lens, and you can immediately see it's come from the same DNA and design principals. The zoom and focus controls are about as perfect as you can expect, making handling a dream. While the lens does look a little large for the camera, the vertical grip (to be released in 2016) will offer further balance to this combination.
You're probably wondering why the lens has a variable aperture of f/2.8 at 24mm to f/4 at 90mm, and that is to keep the lens weigh and size at a down. While it measure at a similar size and weight to a pro 24-70mm f/2.8 lens, Leica's requirements for impeccable image quality would require the size to even larger if a constant f/2.8 aperture was to be realised. Therefore, like most lens designs, this lens had to employ a variable maximum aperture, and from my initial testing, it delivers outstanding image quality that no other lens in this category can match, from any manufacturer – and don't forget this lens goes to 90mm, which is a great focal length for shooting head and should portraits. Finally, given the SL's ability to shoot at high ISO's with exceptional noise performance, the need for f/2.8 all the way through is not as imperative as it used to be.
Outstanding image quality
Extremely fast AF = 100 ms
Internal focusing
Optical image stabilization (OIS)
Perfectly sealed against environmental influences
E82 filter thread
18 elements in 15 groups, 11 with anomalous partial dispersion for correction of chromatic aberration at all focal lengths
Four aspherical lens elements
Nine-blade iris ensure unmistakable Leica bokeh
Leica APO-ELMARIT-SL 2,8-4/90–280mm
Outstanding image quality
Internal focusing with two floating elements
Optical image stabilization (OIS)
Perfectly sealed against environmental influences
E82 filter thread
23 elements in 17 groups, seven with anomalous partial dispersion for correction of chromatic aberration at all focal lengths
Nine-blade iris ensures the unmistakable Leica bokeh
LEICA SUMMILUX-SL 50 mm f/1.4 ASPH.
Outstanding image quality
Extremely fast AF
Internal focusing
Optical image stabilization (OIS)
Perfectly sealed against environmental influences
E82 filter thread
Available end 2016
UPDATE: LEICA SUMMILUX-ST 35mm f/1.4 ASPH lens launched
Launched (softly) at the SL Launch, Leica T Product Manager Maike Herberts was quietly strolling around holding the new Leica Summilux-ST 35/1.4 ASPH lens which is designed to work on both the ST and SL as a 50mm framed f/1.4 lens. Of course this means that the field of view will be around 50mm with a depth of field resembling that of a 35mm lens.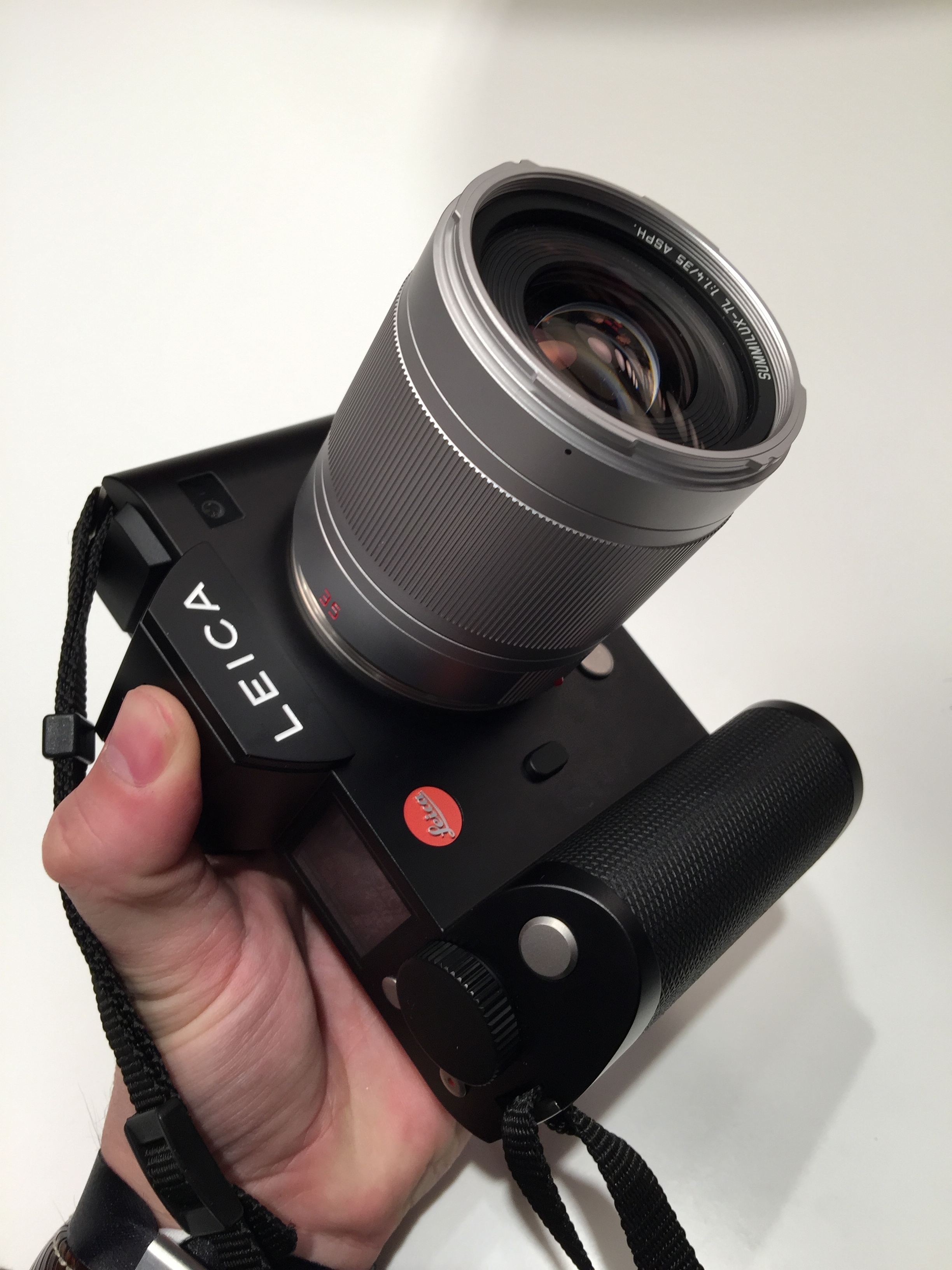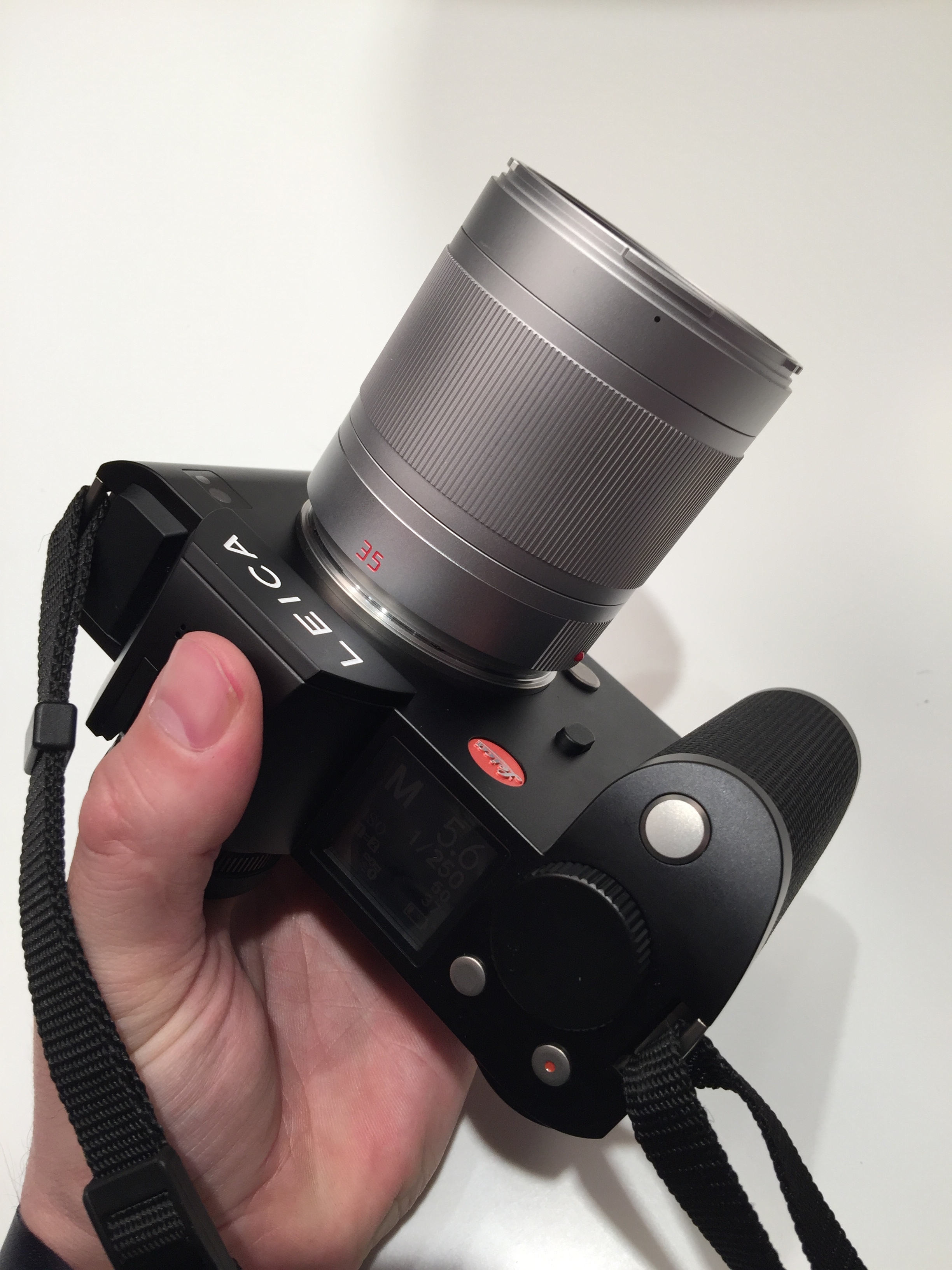 LEICA SL ACCESSORIES
Leica Multifunctional Handgrip SL
Safe and steady grip for portrait-format exposures
Offers space for an extra battery
Integrated additional shutter release and setting dial
Product number: 14 495
Hand strap
Product number: 16 004
Replacement/Backup Battery
7.2 V, capacity 14 Wh
Approx. 400 exposures (CIPA)
Charging time (after total discharge) approx. 190 min.
Product number: 16 062
General Accessories
Camera Strap professional - Product number: 16 037
LEICA RC-SCL4 remote cable release - Product number: 16 070
USB 3.0 microcable, 3 m - Product number: 16 071
HDMI 1.4 cable (Type A) - Product number: 16 072
Leica E82 Filters for SL lenses
Leica E82 Polarization filter - Product number: 13 052
Leica E82 UVA II Protection filter - Product number: 13 042
Leica E82 ND filter - Product number: 13 059
Leica SF-64 Flash Unit
Guide number 64 at ISO 100
24–200 mm motor zoom
Illuminated touchscreen display
USB interface
Reflector angle adjustment

Vertical: –9/+90°
Horizontal: 300°

Secondary reflector
Product number: 14 623
Leica SF-40 Flash Unit
Guide number 40 at ISO 100
TTL and high-speed sync
24–105 mm motor zoom
Video light with nine brightness levels
Reflector angle adjustment

Vertical: –9/+90°
Horizontal: 300°

Product number: 14 624
Leica Screen Protection Film
Made in Germany
Protects against scratches and marks
Reduces reflections
Including replacement film, Leica optical cleaning cloth, and screen cleaning pad
Product number: 14 624
CONCLUSION
After spending a few days with the Leica SL it's apparent that Leica have made a very courageous move into the professional mainstream market. While the Leica M and S have both had success in this sector, their reach has been more niche in effect. Leica has clearly aimed their crosshairs at the professional mainstream segment at the Nikon D4s and Canon 1Dx users, as well as those who have made the move to Sony's mirrorless system.
The SL's extensive feature-set, combining speed and optical performance has set a new benchmark within the professional camera segment. By producing a professional performing mirrorless camera, photographers now have a new way of achieving amazing images in the most challenging situations, along with the market-leading optical quality that Leica has always been known for.
The M-System was critical to starting the 35mm camera revolution back in 1954, changing the way photographers use their cameras to record history, and it looks as if Leica is attempting to do it again and take back the title of 'world imaging leader'. So if the M is a testament to Leica Camera's glorious past, then the Leica SL is at least a glimpse into the potential of Leica Camera's incredible future.
> CLICK HERE for the next part of this article, focusing on camera performance and image quality of the new Leica SL......